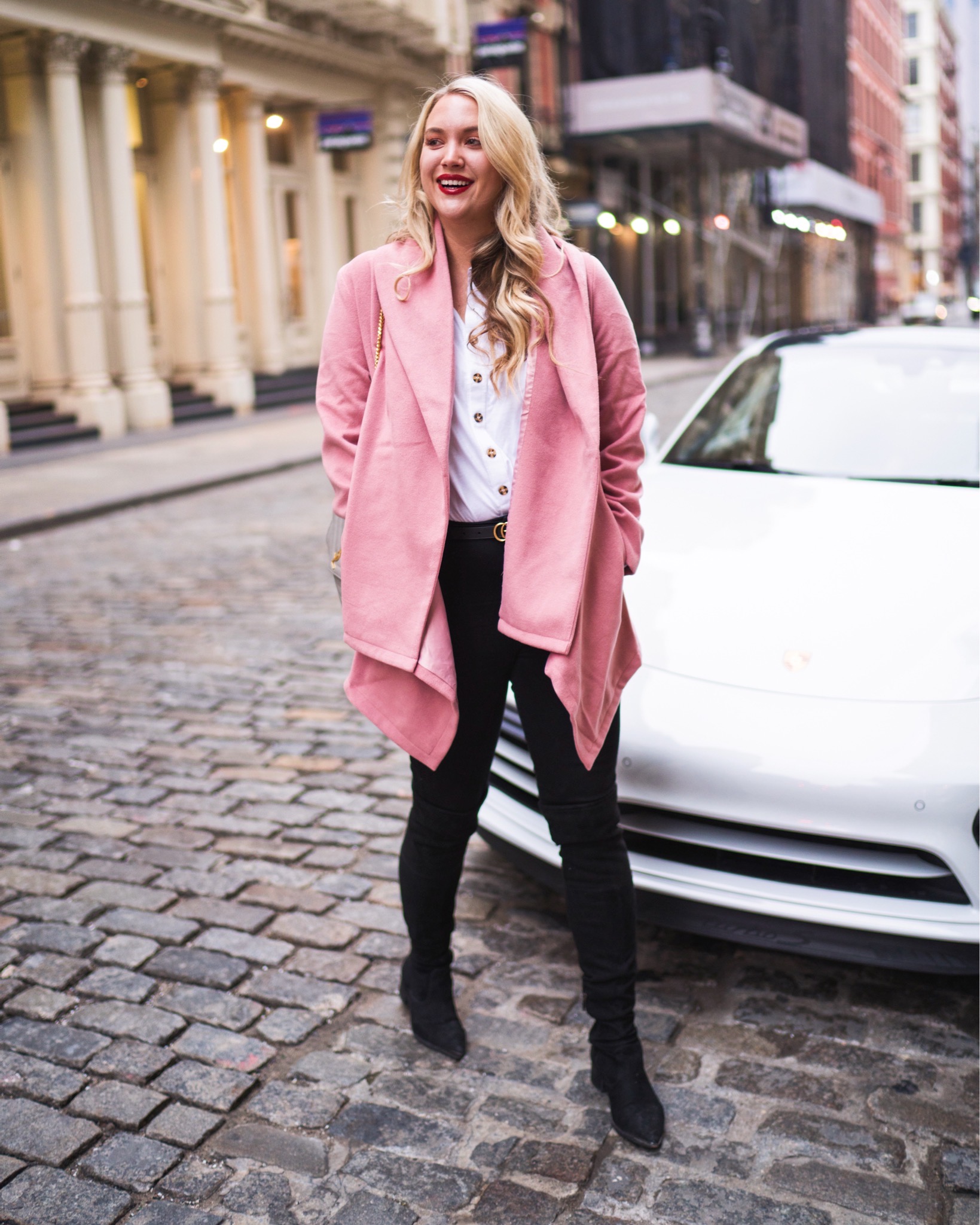 Happy Tuesday y'all! I hope everyone is easing back into the real world this week with it being the first official week back. Isn't it crazy that this time last week was New Years Eve?! I'm honestly glad we went back to work last Thursday so that we sort of had two days to ease into everything, and then the weekend to relax and really prepare ourselves. I spent my entire weekend purging, cleaning and rearranging my storage situation and I feel SO good about it and honestly ready to take on the month. Yesterday morning I shot a ton of content that I'm excited to share and then went into the day looking and feeling ready. Bring on 2020!
With that said, I wanted to use today's post to round up my goals for 2020. If we're being honest I think New Years Resolutions can be a crock. I don't think you need a new year to change something about yourself or your lifestyle, but this year the start of the new year just happened to hit the nail on the head with timing for me. I'm going into the new year with what actually feels like a fresh start and I'm seriously SO ready for that. So without further adieu, let's kick it off!
1. Put my happiness at the forefront of everything I do. I think this goal of mine is very broad, but also can be broken down into a few sectors. In 2019, I found myself very unhappy for a really long time and it got to a point where I didn't understand why or what could help change it. I think overall it's a mindset, but there's so many factors that go into being happy on a daily basis and that's what I'm focusing on most in 2020. This includes:
-Finding a therapist in New York
-Learning to separate work & life (both blog, and 9-to-5)
-Being at peace with who you are and what you feel
2. Put forth a financial goal and stick with it. I'm finally going into 2020 at a decent place financially and my goal is to really start saving. Believe it or not, I've been out of college for four years and have lived paycheck to paycheck. Living in one of the most expensive cities in the US is really tough, but my main focus this year is to build my savings. That means more lifestyle content, purging what I have and reusing items I already own. I'm thinking about sharing financial updates every month vs. doing a full "no spend" month this year, but let me know what y'all would want to see!
3. Find my faith again. A big goal for me is to find a church home here in New York. I've dabbled at a few churches here but really haven't found one that's a great fit for me. I grew up in two different churches and I'm really not into the showy/flashy church style. I'm hoping to find a church home by March and get back on track here, but in the meantime I've asked a lot of my college friends for great starter devotionals.
4. Focus on positive aspects during the day to day. Let me be very honest here, I'm easily one of the most negative humans on the planet just about 75% of the time. It's something I'm fully aware of and trying to work on HARD. Just in the last week I've been trying to focus on positive aspects of things instead of letting small things grow to where I explode. As Nikki tells me, inhale for 6, hold for 8, exhale for 10.
5. Treat this site like the business that it is. After seeing how much potential there is with my website (especially in the never-ending change of social media), I really want to focus my time and effort into my site, my blog posts, and building this hub. After all, I put SO much time and effort into it and it really is a side business, so this year I plan to treat it as such.
Additional new years resolutions that I won't dive into details…
I do have a running list of things that I won't fully go into because I feel like they're self explanatory, but I wanted to put in writing to hold myself accountable nonetheless! I'd love to hear your goals and if you have anything similar to mine, we can be each others buddies throughout the year! Have a great day y'all and thanks for reading!
-Stick to a consistent work out routine
-Focus on positive relationships in my life
-Try not to work post-work hours
-Grow my photography skills and start using my camera more
-Purge/donate items once a month
-Create more IGTV videos
-Get out and start dating more
-Start a series centered around the NYC dating scene
-Partner with at least 3 of my dream brands in 2020
-Partner with a hotel on a vacation/travel post
Share the post "My 2020 Goals"
Please Support this blogger by visiting their page. If you are the original poster and want this content removed, please contact us. All original Affiliate links are unedited to give credit to creator.